May 28, 2020 07:23 PM Central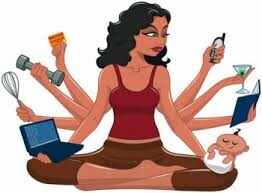 I'm over lock down, right?
It's driving me nuts and I am feeling a little stabby most days. I control myself, don't worry.
But let's just say that I get why people need to drink. I'm not a drinker and that is a religious choice, but OH. MY. WORD. I would also like to just escape sometimes!
All jokes aside, I eat a LOT of chocolate. Unabashedly so.
What I am kind of loving about lock down though, is some new insights.
As a family, we have been caught off guard by this whole situation and left out in the cold, kind of literally.
We actually had plans to immigrate.
We had sold our house, some furniture and really purged items.
Then we came to stay in a VERY small bachelor flat on my In-laws property, for what I thought would be 6 weeks before we left to immigrate.
We only have 2 cupboards here, and we have one small bedroom with our bed, and L's as well (it's SUPER fun making the bed in the morning! Not).
We have no couch – Just one fat sack and a bed in the lounge where Udo sleeps, because he didn't want to be squashed into bed with the toddler.
We have an old kitchen table as a desk, and 2 bar stools.
We do not even have a stove – We eat with my in-laws each night.
We use their washing machine, and microwave - I hate that thing – It literally cuts off the internet every time someone uses it!
But it's all good right? It's only 6 weeks.
So I only bring very few summer clothes for us all - 2 jackets for each child and 2 pairs of socks for Udo.
The duvet etc is left in storage in the Northern Suburbs, along with all our other furniture and clothes. Again – It's all good… It's just 6 weeks and then we will be off. We were in the HEAT of the summer, so we didn't need that all.
We have quit our jobs and are ready to rumble in another continent.
HA!!!!!!! Covid laughed in my FACE!!
Jobs overseas are now gone.
Winter is coming and lock down is extended with our stuff all 50km away, with only 2 pairs of socks to share between the 2 of us!
I am now in lock down with my Mother-In-Law.
You cannot make this stuff up.
Except that my kids don't really care, and I'm totally fine with sitting on a Fatsak to read to my kids.
I don't care that the desk is old and ugly, and I learned that using a laundromat is actually an awesome way to get laundry done really fast.
I don't care that we have no television – I hate my kids watching it, so I'm glad we don't have one in the flat.
We get to home school L a bit, which I was sure was going to SUCK.
Look, it totally does suck, but I also got to learn more about my beautiful son, and how he works.
I am incredibly proud of him and how he takes pride in what he does.
I also got to see that there is a problem with his reading, and Mamma Bear went all Shee-Ra on that issue (which is the topic of another blog post).
I also learned that my kids do not need to be entertained like they have been in the past.
They have not been out for 9 weeks, and while that's not ideal, they found their creativity.
I love that L has now started playing on his own, using his imagination.
Walks are now our new outings, and the beach is something that we look forward to with hope.
Before this all, Udo and I would have been sure to take them wherever, whenever they wanted - with Ice-cream, obviously. Everything was instant and we gave them everything. But now we can't, because we are physically not able to.
We have learned that we spent far too much on going out, and eating out.
What an absolute mind-shift!
I really thought I needed all these outings in order to stay sane. It was a genuine belief of mine.
I won't lie - The toddler has been hard to deal with in such a confined space.
But there are huge blessings too - Something beautiful happened…. He now prefers ME!!!!
It's been Daddy Daddy Daddy for a year, and now I'M THE FAVOURITE again!!!!
He sleeps with me in the bed, and holds my hand most of the night.
We snuggle and he calls for me.
He is sleeping better now too!!
For the first time in 3 years, he has slept through the night for a couple of nights this week!!!
For those that know the story behind that, you will know it's nothing short of a miracle. No jokes.
We are working very hard, and our working hours have been adjusted so that we can still home school and try and keep the kids alive.
Our work starts when kids go to bed, and we work until the early hours of the morning to get done what needs to get done.
But that's how it is! It's not ideal and I'd really rather not, but it's not undo-able.
We are hustling to make sure we can eat and clothe our kids.
We are enjoying an entrepreneurial spirit.
We now both work for ourselves.
Never did I ever think that would happen!
I find it extremely hard to be productive, and also be a present Mom – I am sure many are struggling with it, but I do feel daily like I am failing my kids, and also not achieving with my work what I want to. That's my biggest gripe about this all, really - I'm never really fully engaged with anything.
I need to change that still.
We have so much more perspective now on how privileged we have been, and still are.
I think how our Father in Heaven must sometimes roll his eyes straight into the back of His head at our prayers, wanting more and more and more.
It's like He is showing us now that there is too much materialism and waste.
But here's the thing…. I have my down days, but far less than I thought!
While I am struggling with some things immensely, It affects me emotionally SO much less than this all should.
I know that the Atonement of Christ is working in our lives.
His Atonement is not just for sin, it's for loss, heartache, pain, sadness. All of it.
And I feel it in my life SO much.
I can see it all around – I see Him working in the lives of everyone – Like we all have these massive arms wrapped around us.
We are being held you guys.
We are being protected like I am protecting my boys from what's going on outside right now.
He is holding us tight, and is also taking on our hardships.
I feel SO blessed, to be able to learn these lessons.
I have had to learn to let go. To submit. To be more meek.
To see beauty in the clouds and the ocean like never before.
I need to remember these things – Because I don't want to have to learn this lesson again.
There isn't enough chocolate in the world to do this all again.